Nothing much to say about today. A dear old customer came in a bought a long USB-C cable. Only $5. She'd bought one a few weeks ago for a friend.
"It was a big hit!" She informed me. "And it's a great deal.  I'll take another!"
It's always nice to see a familiar face with simple needs. Makes the workday so much better, even when there's not much else going on.
Later in the day, a friendly local gentleman dropped in with an iPhone 5SE. It screen had begun peeling away from the frame at the top.
"I think I see a loose screw in there! Can you help me?"
"I can handle your rotten Apples!" I said to him, pointing to my lucky rotten apple. "Give me about a half hour."
"I got some stuff to do, I'll see you in an hour or so."
Then it was pretty run-of-the-mill work, which is a blessing on a slow day.
Pry the display away from the frame; disconnect the home button (it's a 5SE, so you gotta disconnect it before even doing the battery, by design); remove the battery plate cover and disconnect the battery; remove the LCD connector coverings and disconnect the screen.
During this process, a loose screw was found. It happened to be the screw that holds the LCD to the frame.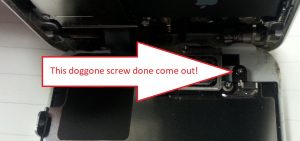 Apparently the screen had been previously replaced, and for some reason, this screw had not been tightened down fully.
Likely someone with too gentle a touch, which is better than too rough a touch in this business.
I popped the screw back in and it threaded in nice and tight.
Then I gave the others in the area a check, and they were a tad looser than normal too. I checked the rest around the device, and they were all proper tight.
So then it was just a matter of throwing a touch of jeweler's glue in a couple of key areas, and laying the phone face-down with a nice, hefty hard drive on top.

And our poor little 5SE was all good again.
The friendly local gentleman came back a few hours later, and things appear to be tickety boo.
"$20 for the repair, and it comes with a free cable!"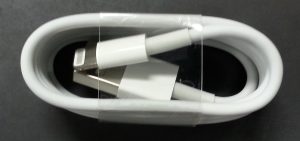 "That's it? That's a great deal!" he responded.
"I'm just trying to be fair. Didn't take that long, and the sign outside says 'free cable with phone repair.'"
And the friendly local gentleman went home with an Apple that was no longer so rotten, and a satisfied smile on his face.
I pray his Apple remains sweet, and his smile lives long.
Thanks bunches for reading!